Great day of protests and route blocking for the acquittal of the oil refinery workers condemned in Las Heras
27/02/2014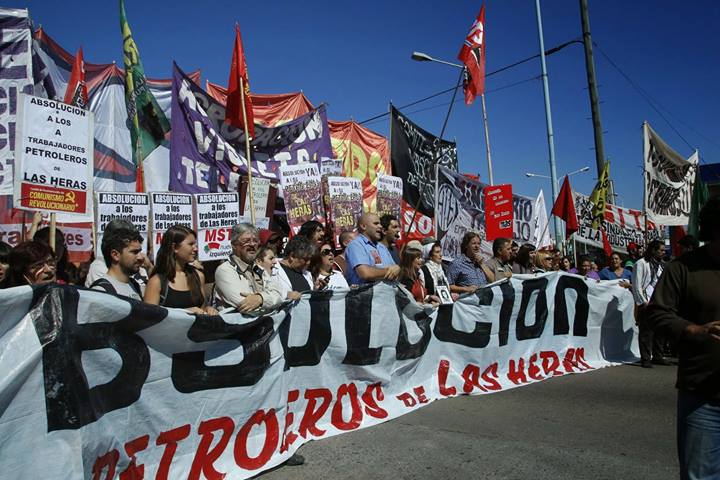 A great day of protests, pickets and roadblocks for the acquittal of the sentenced Las Heras oil refinery workers.
Feb 27th. 2014 – The day of protests started with a "corte" (picket and roadblock) of the Pan American highway by workers and militants from the northern suburbs of Buenos Aires province. The "corte" was led by militant workers from the Kromberg automotive parts factory and shop steward committees and workers from factories such as Kraft foods, PepsiCo and the Donnelley and Printpack printing firms, as well as teachers and students. The Pan American highway, a key road that connects the industrial parks of the northern suburbs to the city center, was blocked for almost an hour before a huge riot police (Gendarmería Nacional) operation tried to re-open the road.
The militants defended themselves against the police repression. In the skirmish that was broadcast on all major TV stations, the workers held their ground against the violent truncheon, rubber bullet and tear gas assault that the "soldiers" of President Cristina Kirchner and Security Minister Sergio "El Loco" Berni threw at them. Among the militants who took part was National Deputy for the PTS / FIT Nicolás del Caño, who Berni went on to accuse of being a criminal. That day the world saw the real face of the self-styled "Human Rights" government.
Three workers were arrested by police: comrade Luis "Ardilla" Boñato, a union representative at the Alicorp (ex-Jabón Federal) factory; Luis Sucher, a union representative at the Posadas Hospital, who are both members of the PTS, as well as a militant from the Posadas Hospital who was injured by police. The militants later marched to the police station where the three were detained to demand their freedom. The police released them later that day.
Police also attacked another "corte" at Liniers in the west of Buenos Aires, which blocked another major road to the city. The Puente Pueyrredón bridge in the city's south was also blocked by various unions, social and political organizations demanding the acquittal of the Las Heras oil workers. In places such as Neuquén and Córdoba province, pickets and roadblocks of roads and bridges also took place.
Across the country, workers are rejecting the totally unfair persecution and sentencing of the workers from Patagonia. They are taking action in the spirit of the motto made famous by the Industrial Workers of the World: "an injury to one is an injury to all".