Black friday: Walmart Workers Stand Up to Poverty Wages
30/11/2014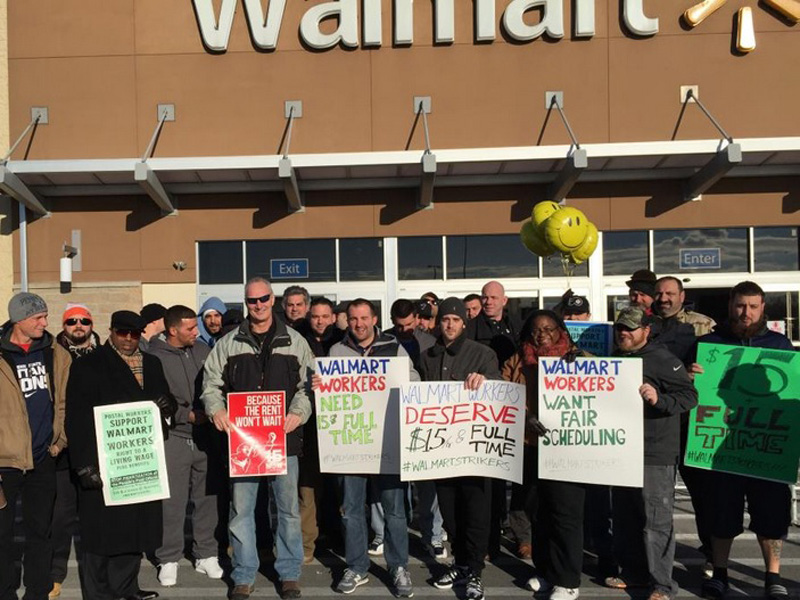 Black Friday: Walmart Workers Stand Up to Poverty Wages
This Friday, known as Black Friday in the U.S., workers at over 1,600 Walmart stores across the country organized protests against poverty-level wages and union busting practices at the massive retail store.
Hundreds of workers, organized under the banner of OUR Walmart, an organization of Walmart employees, supporters, and union organizers held demonstrations outside stores, and while inside, workers held silent protests. OUR Walmart also called on consumers to boycott the chain on Friday, the busiest shopping day of the year.
This is the third year that OUR Walmart has held demonstrations against the multinational corporation. Workers are asking for wages of $15 an hour, full-time work schedules, and an end to retaliation against workers who attempt to form a union.
This year, several Walmart stores, especially those in the state of Missouri, were also the site of protests demanding justice for Michael Brown, the 18-year-old African-American boy shot and killed by white police officer Darren Wilson in the town of Ferguson. Activists at a Walmart in the nearby town of Manchester, MO, entered the store with chants of "No justice, no peace, no racist police".
Fast Food workers in several cities also joined the anti-Walmart protests as part of the Fight for $15! movement, which seeks a $15 an hour starting wage.
An estimated 1.4 million Americans are employed at Walmart, by far the largest employer in the United States. Each week, the company has more than 200,000 customers across the globe.
A central part of Walmart's strategy to maximize profits has been busting union organizing at the store, thereby denying its workers the ability to bargain collectively for better wages and benefits. In 2012, Walmart fired and disciplined over 70 workers who took part in OUR Walmart protests. This past January, a memo from Walmart executives was leaked which instructed local store managers on how to combat union activity by workers. In July of this year, a Walmart store in Quebec, Canada closed after the workers voted to unionize.
Walmart has come under even more scrutiny in the past two years after it held food drives to benefit the families of workers at the store. These "charitable" efforts unintentionally highlighted the fact that the many of the retailer's workers cannot not even afford to buy food at the store without assistance.
In fact, tens of thousands of Walmart workers require government food stamps in order to feed themselves and their families. Approximately $6.2 billion in federal subsidies goes to Walmart workers annually throughout Medicaid, food stamps and public housing.
Last year, Walmart raked in over $16 billion in profits. According to Forbes Magazine, of the 11 richest individuals on the planet, 4 are heirs to the fortune amassed by Sam Walton, the company's founder. The Walton family alone owns more wealth than 42% of the total population in the United States.